(Please note, we are not running the contest in 2009. If we do run the contest again in the future, you will see the announcement on our home page and news page. Thank you.)
Minnetonka Review would like to thank all of the talented writers who have entered the 2008 Tonka Fiction Contest (RULES).
The Finalists and Contest Winners are: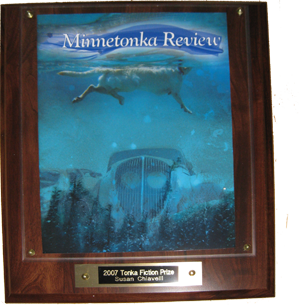 $1,000 First Place - Susan Chiavelli for "Girl's Life: A How-to Manual"
$100 Second Place - Linda Barnhart "The Golden Goose"
$50 Third Place - Pierre Hauser "Your Story Here"
HONORABLE MENTIONS:
Matthew Boedy
Karla Greenleaf-MacEwan
Liam Hysjulien
Wayne Johnson
Jacqueline Kolosov
Sandra Maddux-Creech
Jim O'Loughlin
Daniel Pearlman
Ariel Schaub
Ali Sherwin