Congratulations and best of luck to our nominees for the 2012 Pushcart Prize:
"The Last Stop" a story by Mark Conkling from issue #7, Winter 2011.
"Vespers" a poem by Jenna Le from issue #7, Winter 2011.
"Skin Tight" a story by Richard Schmitt from issue #7, Winter 2011.
"What They Wouldn't Give Me as a Child," a poem by Suellen Wedmore from issue #7, Winter 2011.
"Sought" non-fiction by J. E. Robinson from issue #7, Winter 2011.
"Auction" a story by Katherine Schaefer from issue #7, Winter 2011.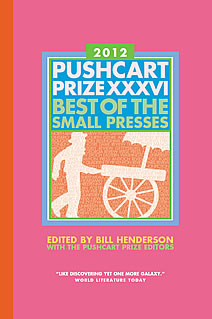 Minnetonka Review Ceases Publication
As of Labor Day Weekend 2011, we have closed for business. Although we will not be reading submissions or publishing new material, we hope you'll enjoy reading the wide selection of poetry, fiction, and nonfiction available online.
ALL SEVEN ISSUES ARE NOW ONLINE!
(Read our Farewell on the News Page)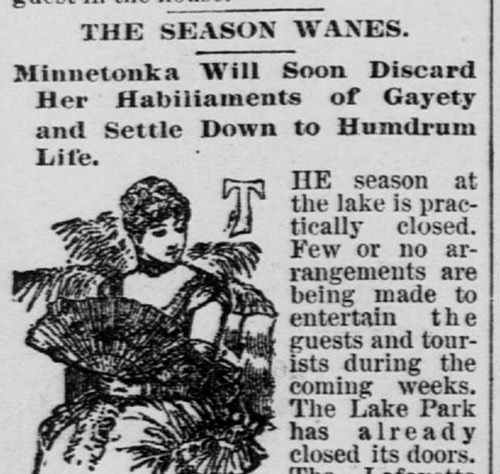 Congratulations to Susan Lilley! Her poem "Swing" (from Issue Five) has been nominated for a Pushcart Prize by Pushcart's contributing editors. This nomination is in addition to the six made by our own editors (listed farther down on this page).
Buy a copy of Issue 7 to support GlobalGiving's Japan Earthquake and Tsunami Relief Fund. Minnetonka Review is donating copies of the current, new issue and selling them on ebay. 100% of the sales price will go to the charity via ebay's MissionFish program.
(auction ended)
Our charity auction has ended, but you can still support the relief effort at RedCross.Org or GlobalGiving.Org
Issue 7! Hot off the press! Order your copy now!
Check out the preview for the table of contents, author bios, and a sample of the artwork.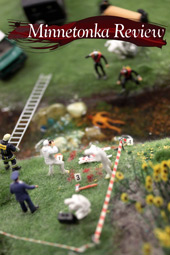 NOTE for writers: We currently have a large backlog of material to consider and we have ended our reading period early. We are closed to postal and electronic submissions until October 15th.
Congratulations to our 2011 Pushcart Prize Nominees:
"Hadamard's Billiards" a story by Stephen Graf from issue #5.
"The Flower of Summer" a story by Caitlin Militello from issue #5.
"Egg Toss" a poem by B. J. Best from issue #5.
"Second Skin" an essay by Liz Prato from issue #6.
"Forgive Us Our Trespasses" a story by Stephanie Gayle from #6.
"Normal" a poem by Susan Maurer from issue #6.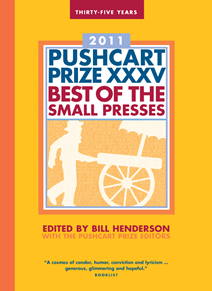 Congratulations to René Georg Vasicek, whose nonfiction piece "Get a Grip" has been chosen as a Notable Essay in The Best American Essays 2010 by series editor Robert Atwan. This year's volume is edited by Christopher Hitchens. "Get a Grip" was first published in Minnetonka Review Issue Three.
PLEASE READ RESPONSIBLY.

Congratulations to Keith Demanche for being named an Honorable Mention for The Best Horror of the Year 2009 by Ellen Datlow! (See News for more details)
Congratulations to Chip Cheek for his Pushcart Prize Nomination!
Pushcart Prize nominees selected (see News page for more info).
Congratulations to Amy Kolen for having "Moenkopi Dance" selected as a Notable Essay in The Best American Essays 2009 by series editor Robert Atwan. The essay was first published in Minnetonka Review Issue Two.
"Rock Dust" by Stan Badgett, published in Issue Two appears in The Best Creative Nonfiction, Vol. 3 (W.W. Norton July 2009), available at bookstores and Creative Nonfiction.
"The maiden voyage of the Minnetonka Review
is a ride you must catch." -NewPages.com
Regarding our first issue, Literary Magazine Review wrote:
"Minnetonka Review already has all the features
of a more established literary magazine."
Minnetonka Review seeks out and publishes works of literary merit by both new and established authors. Each issue engages and entertains our readers with the very best fiction, essays, and poems.
Minnetonka Review is headquartered on Lake Minnetonka, which is one of the largest lakes in Minnesota, located just west of the Twin Cities. The lake was first discovered by two children paddling up Minnehaha Creek from Fort Snelling. In 1852, Minnesota's territorial governor, Alexander Ramsey, named the lake after hearing the native Dakota people refer to it as minn-ni-tanka, which means "Great Waters." Soon thereafter, the first hotel was built on its shores and in 1855, Henry Wadsworth Longfellow made the area famous with his epic poem, "The Song of Hiawatha. Minnehaha, the heroine of his poem, was named after the creek that flows from Lake Minnetonka to become a tributary of the Mississippi. Minnehaha is the word for waterfall, or "laughing waters."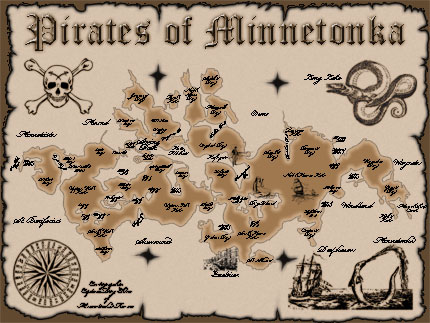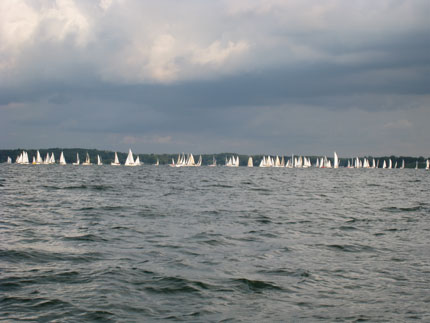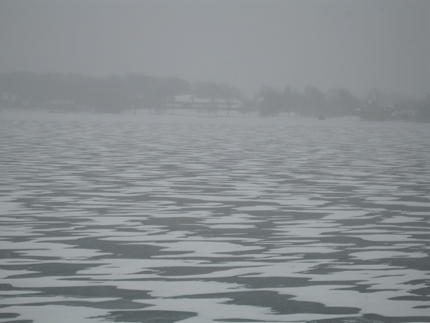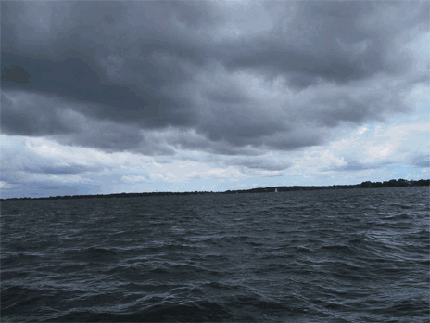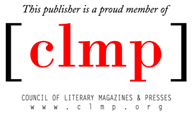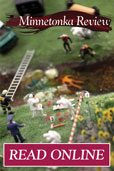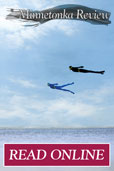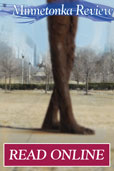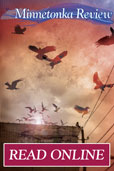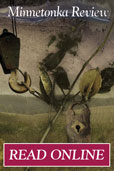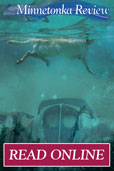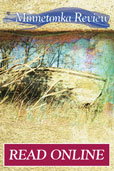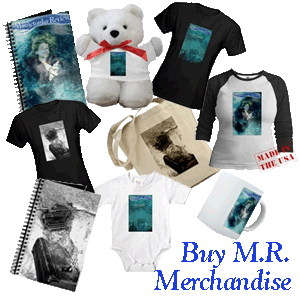 Through the far-resounding forest,
Through the forest vast and vacant
Rang that cry of desolation,
But there came no other answer
Than the echo of his crying,
Than the echo of the woodlands,
"Minnehaha! Minnehaha!"
All day long roved Hiawatha
In that melancholy forest,
Through the shadow of whose thickets,
In the pleasant days of Summer,
Of that ne'er forgotten Summer,
He had brought his young wife homeward
From the land of the Dacotahs;
When the birds sang in the thickets,
And the streamlets laughed and glistened,
And the air was full of fragrance,
And the lovely Laughing Water
Said with voice that did not tremble,
"I will follow you, my husband!"
In the wigwam with Nokomis,
With those gloomy guests that watched her,
With the Famine and the Fever,
She was lying, the Beloved,
She, the dying Minnehaha.
"Hark!" she said; "I hear a rushing,
Hear a roaring and a rushing,
Hear the Falls of Minnehaha
Calling to me from a distance!"                    
  -Henry Wadsworth Longfellow 
an excerpt from 
"The Song of Hiawatha"